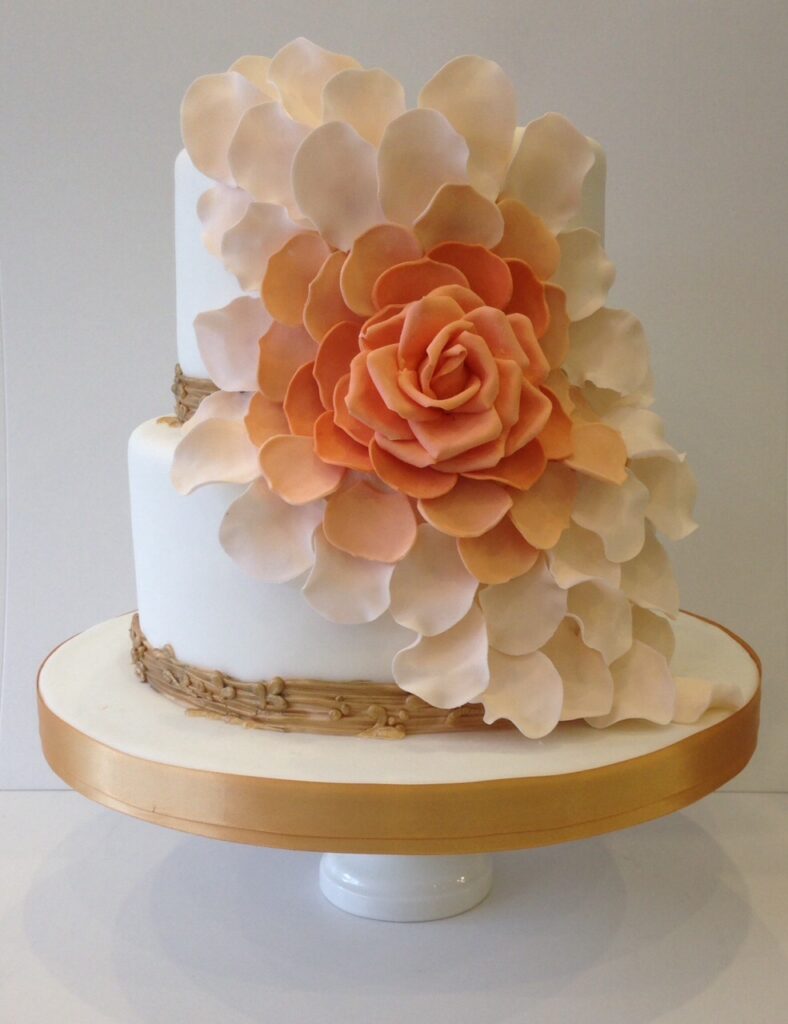 Autumn is upon us and if you're planning to marry the love of your life in a beautiful seasonal wedding ceremony, you'll no doubt want your wedding cake to match. From warm earth tones and seasonal flavours to unique cake topper designs, there are various ways to evoke the feel of autumn through your wedding cake for a memorable centrepiece that suits the theme of the day. Here are a few ideas to inspire your wedding cake that match perfectly with the rustic autumnal theme.
Buttercream and fresh fruit
Buttercream is a soft, fluffy and delicious alternative to fondant for a cake that tastes absolutely delicious but looks beautiful too. You can choose for your buttercream to be smooth for an elegant finish or feathered for a more rustic effect, depending on the look you're trying to achieve. Buttercream can also be coloured or flavoured to suit your colour scheme or your personal taste preference, so it's fully customisable for your dream wedding cake. Why not pair your tiered buttercream cake with fresh berries, such as blackberries, raspberries and cape gooseberries, for a tart contrast to the sweetness of the icing?
Naked cakes
Perhaps you want the flavour of the sponge to shine, for a subtler and more natural result – in these instances, we recommend naked cakes. With a naked cake, the tiers are filled with buttercream, but the outside of the cake is either left plain or can be covered with a light coating of buttercream for a transparent effect. This allows for a modern finish that you can then top with flowers or fruit, which works wonderfully with the seasonal theme of your day.
Seasonal flavour combinations
Salted caramel, carrot cake, sticky toffee – these are flavours that we all associate with autumn, and they're ideal flavour combinations you can incorporate into your wedding cake. You may want a multi-tiered cake in one flavour or several smaller cakes in different flavours if you can't choose or you want to offer achoice to your guests. Alternatively, you can opt for a stack of individual cupcakes in different flavours for your special day. Whichever style you decide to go for, consider how the flavours you choose can work with your autumnal theme.
Rustic colours
This is a season of rich colours as the leaves start to turn, with deep reds and oranges to gold and bronze tones in abundance, so why not showcase these colours in your wedding cake? You may want the entire cake to be one colour, such as a rich crimson or gold for a showstopping centrepiece, or you might want to use a few different shades by pairing a base colour with metallic-tinted leaves, flowers and gold-dusted fruits around the sides of the cake. These colours instantly evoke autumn so they're a great colour scheme to choose if you want your cake to work with your intentionally seasonal wedding.
Key takeaways
Autumn is a beautiful season that has plenty to offer in terms of inspiration for your wedding day. From the different shades that can inspire your colour scheme to leaves and flowers for unique cake topper designs and delicious flavour combinations that instantly evoke this time of year, such as caramel and toffee, these cakes are perfect for an autumn ceremony.
At Cakes by Robin, we specialise in beautiful wedding cakes that are as striking as they are delicious. If you'd like to order your wedding cake or you'd like to discuss the options available, contact the team at Cakes by Robin today and we'd be delighted to help.