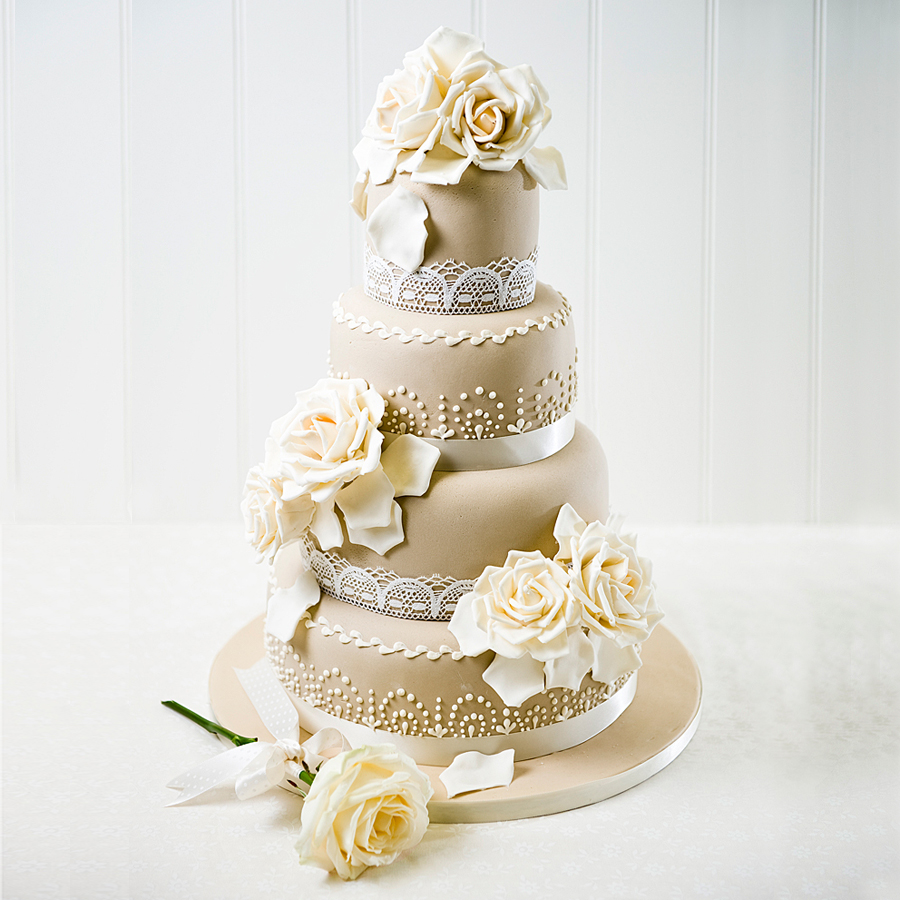 If you're planning to get married in the near future, the wedding cake is going to be one of the most important things you need to think about when organising your reception. Thankfully, these days, there is a wealth of choice when it comes the design of the cake – you don't have to go for the traditional tiered fruit cake, wrapped in marzipan and covered in a layer of royal icing, unless you want to.
But with so many decisions to make, we thought we'd walk you through some of the tips for getting the wedding cake of your dreams. After all, with over 10 years' experience of creating all kinds of wonderful wedding cakes for couples near and far, delivering to prestigious London venues including The Ritz, Claridges, The Mandarin Oriental, The Four Seasons and Kew Gardens, Cakes by Robin are renowned experts in the field.
What's the best shape and size?
When it comes to selecting the best cake shape, bear in mind your style and wedding design as a whole, to make sure it all coordinates beautifully. Go for a simple round cake and wow with an interesting design. Or choose a square cake design for a modern alternative, or just to be different. It is your wedding after all!
In addition to the basic shape, you need to consider how many tiers are needed. How do you know if there's enough cake to feed all the guests? We know the answer to that one. As a general rule, a large two-tier wedding cake will service 50-100 guests, depending on the portion sizes.
The overall dimensions of your cake also need to work with the size of the venue. A small two-tier cake can look rather lost amongst a grand ballroom setting, so you might have to reconsider. Ordering a cake that is deliberately too big can have its advantages.
Some couples follow the lovely tradition of saving the top tier, to be eaten by the bride and groom on their first wedding anniversary. Or, in the case of William and Kate, at Prince George's Christening. The top tier is also known as the 'good luck tier' for the happy couple's future.
Other couples choose to use cake as wedding favours, with individual slices daintily boxed up for guests to take home as a little memento they can enjoy with a cup of tea the morning after the celebrations.
Dummy cake tiers are another option to add height and heft without more cake. Polystyrene layers are covered and decorated just like the rest of your wedding cake, so no-one needs to know that some of it is not actually edible.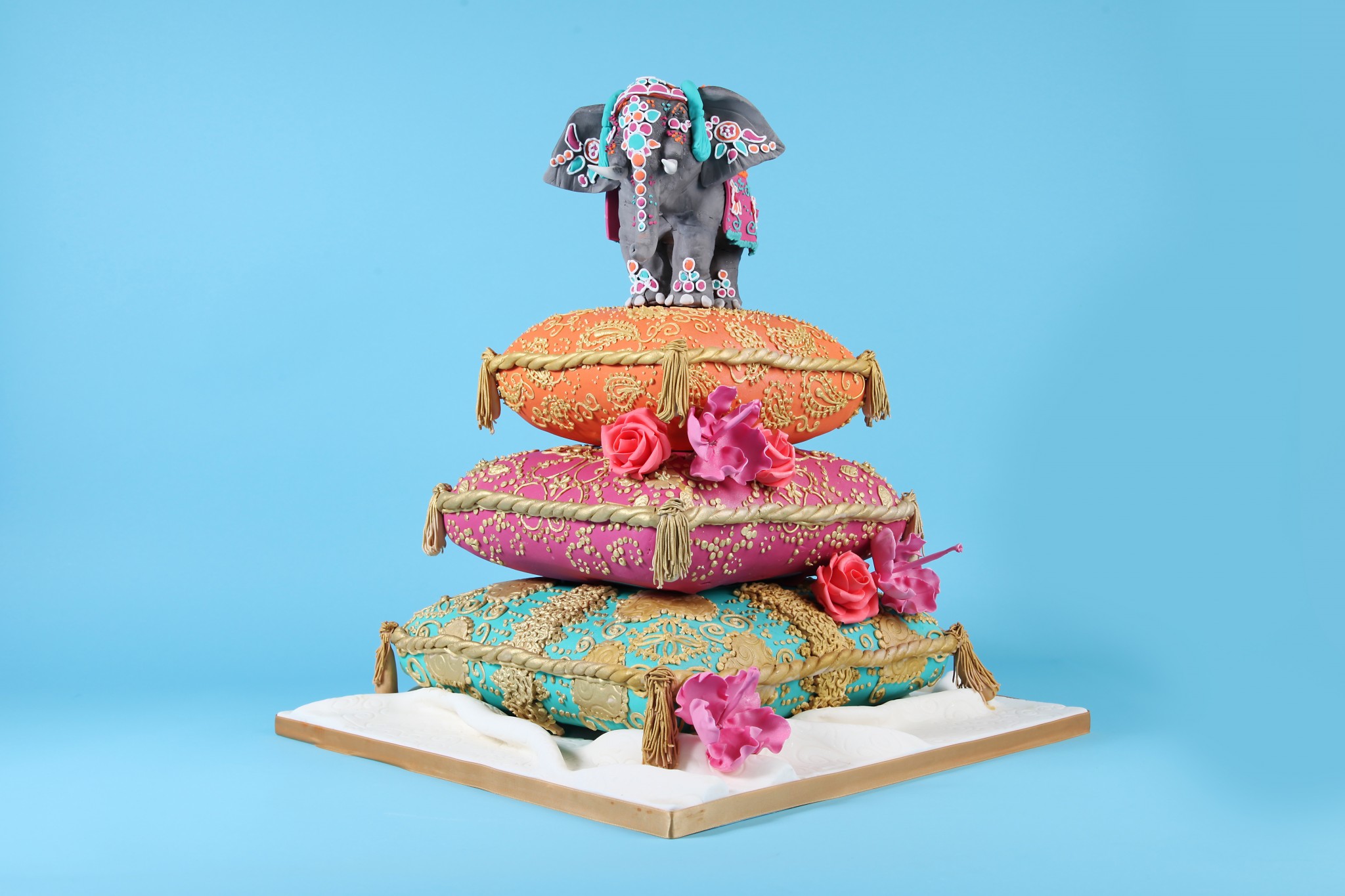 How to choose the right design?
We know only too well that the wow factor of your dream wedding cake is all-important. When choosing a design, many brides take inspiration from the overall wedding theme, incorporating their colour scheme into the wedding cake design. Cakes these days can be green, orange or hot pink – gone are the days when you had to stick with white or ivory.
Inspiration can also come from details in the wedding gown or bouquet, or from anywhere really! Whether you've seen something you like in a bridal magazine, found a picture of the perfect designer wedding cake on Instagram, have been curating your wedding cake Pinterest board for months, or have your own original ideas, book a design consultation with Robin now so she can make your wedding cake dreams come true!
When it comes to cake toppings and embellishments, the only limit is your imagination. Cakes can be covered with sugar-crafted crystals and embroidery to match the wedding dress, and even the plainest cakes can be made into something extraordinary with the right cake topper. Choose from personalised toppers that reflect the bride and groom's personality, add beautiful flowers (fresh, dried or sugar flowers) and customise your cake for a look that is uniquely yours.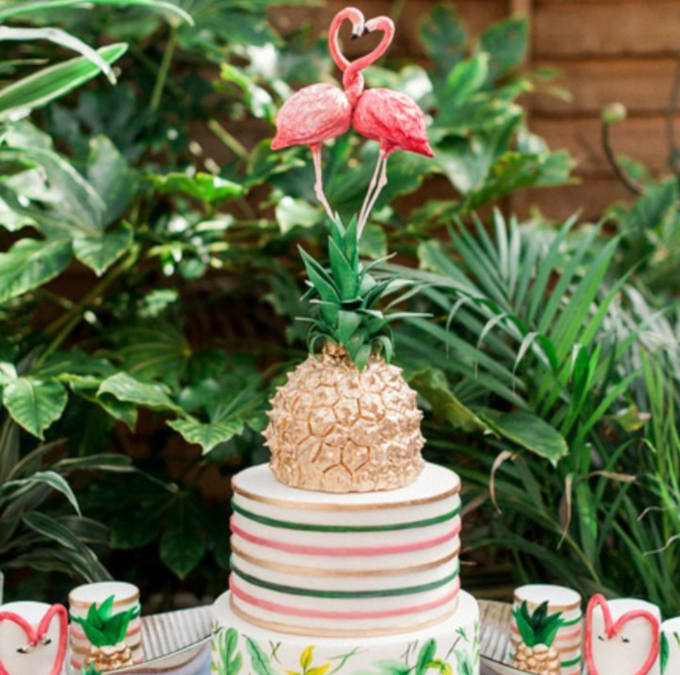 Which flavours are available?
Of course, your wedding cake must taste as good as it looks, but which flavour should you choose? While fruit cake is still the traditional choice, there's a wealth of other flavours and fillings now widely available. Here are Cakes by Robin, you are truly spoilt for choice. There's really only one thing to do: Visit us at our Cake Parlour in Wimbledon for a cake tasting!
Classic Vanilla Victoria Sponge
Divine Chocolate Fudge
Lemon Drizzle
Coffee & Walnut
Fruity & Fabulous
Red Velvet
Carrot Cake
Marble Mix
Sticky Toffee

And who says cakes have to be covered in buttercream or icing? We routinely create naked and semi-naked wedding cakes that can be decorated to match the bridal bouquet or complement table decorations, or are simply yet beautifully adorned with berries and fruit are a rustic alternative to traditional iced cakes.
Whether you have firm ideas about the look and taste of your perfect wedding cake, or you're in need of inspiration, Cakes by Robin can help you create the wedding cake of your dreams. Take a look our extensive portfolio of wedding cakes and book an in-depth consultation with Robin to discuss your vision of the ultimate wedding cake for the best day of your life.