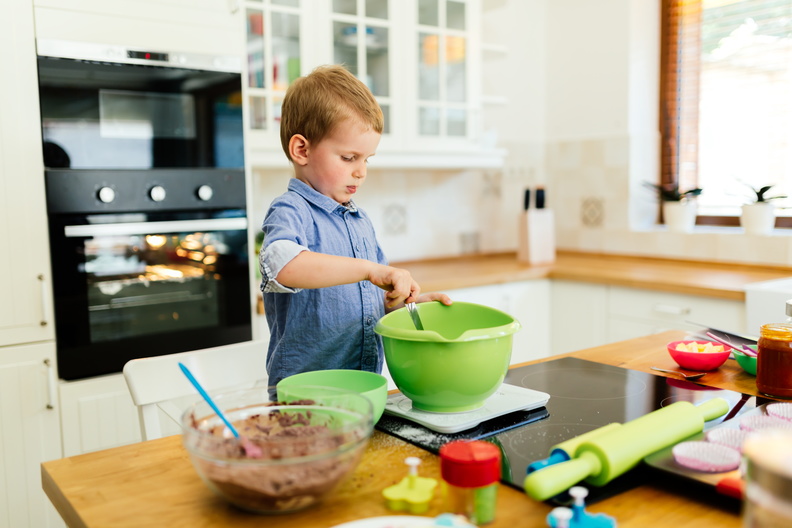 Keeping the kids entertained during the summer holidays can be a challenge but getting creative in the kitchen is the ideal activity that you can enjoy together. What's more, baking offers up a number of educational benefits for children, so it keeps them learning while they're having fun. Here are some tips on how you can inspire your kids to bake during their school break and why kitchen creativity should be a top priority.
The benefits of baking with kids
The delicious treats at the end of a baking session are just one of the advantages of spending time in the kitchen with your little ones. Cooking and following a recipe help your kids to develop their maths skills, learn science and improve their reading ability. Cooking is a practical skill that everyone should learn, and the earlier kids can learn the likes of measuring and weighing ingredients, the better.
Baking also helps kids to listen and follow instructions, which are good skills to maintain before their return to school. There's the creative aspect to baking too – kids love to come up with flavour ideas and different ways to decorate their bakes.
Tips for inspiring kids to bake
There are various ways to encourage your children to spend their summer holidays baking. Encourage kids to try a different recipe each week – you can spend time together looking for recipes and they can take photos of each bake they create or come up with designs for how they will decorate their cakes and biscuits.
Another way to inspire creativity is to plan an afternoon tea together – they can invite their friends for an outdoor party where they can share their creations. If they can't be with their friends in person, an alternative is to arrange a video call with them so they can all bake together.
Individual bakes, such as cupcakes, cake pops and biscuits, are all ideal to make with little ones. They can be shared with friends and family and your kids can get creative with decorating them, coming up with a theme for the whole batch or decorating each one differently with different coloured icings and sprinkles. It's a great way to let their imagination run wild.
Why not get them growing their own herbs or easy plants such as tomatoes which they can then use in their recipes? Whether you have a garden, a balcony or a sunny windowsill somewhere in your home, you don't need as much space as you might think to grow your own food, and it's a project that kids will be enamoured with. They can care for the plants in the meantime and then, when they're ready to harvest, they can use the ingredients to make something delicious that they'll be really proud of.
Final thoughts
Baking with kids can get messy and may require some patience, it's an activity that you'll both have a great time doing and getting kids inspired to cook is something that will pay dividends in years to come. Children are always incredibly proud when they've made something from scratch, especially if they can have fun decorating and flexing their artistic muscles in the process.
Want some inspiration for your summer baking activities? Check out the bakes Cakes by Robin have created over the years or get in touch with us if you have a question for our team.