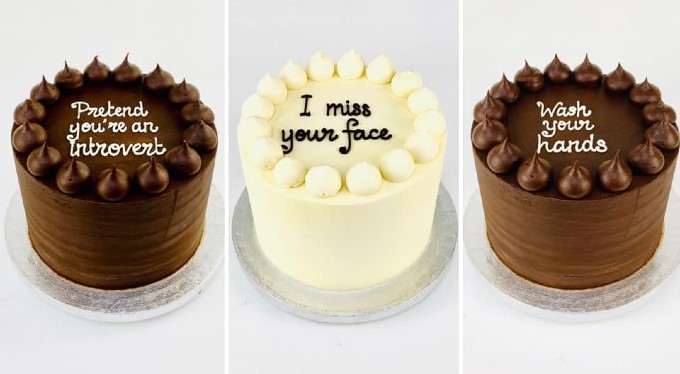 As the routine of self-isolation begins to normalise and the initial uncertainty behind the UK's lockdown starts to settle, now is the ideal time to think of how to celebrate once this period is over.
While we may all be dreaming of the day we can meet up with friends and embrace our loved ones again, health simply must come first at this time. But that's not to say we can't dare to dream – with all the restaurants, cafes and bakeries currently shut across the country, there's no reason why we can't dream up ways to get our fill once lockdown is over.
Plan, plan, plan.
One particular method we have found to satisfy the missing links in our current lives has been to plan a post-lockdown dessert party for when quarantine is lifted. Take a break from the surrounding stresses of life to combine your sweet tooth with your loved ones, by planning an indulgent post-coronavirus get together.
What better way is there to pass the time, after all, than browsing collections of towering cakes drowning in buttercream, and envisaging gooey cookies and sweet-topped cupcakes strewn across a perfectly laid dessert table?
Using third-party sites like Pinterest can help collect inspiration from bakers around the world as well. Simply pin your favourite creations to make colourful boards of cakes and pastries, thinking all the time of a room filled with friends and family gathered around a table of treats. Or alternatively, feel free to use our galleries of images for inspiration.
Dreaming of chocolate…
Although things may seem uncertain at the minute, this time won't last forever. So why not spend your free time planning for your future? Give yourself something to look forward to as, eventually, you'll be able to reunite with the people you love the most and pick up your favourite puddings once again.
Whether it be for a missed birthday or a postponed baby shower, immerse yourself in the escape of party planning even for a few short hours. Just picture the scene: patterned covers across tables, ribbons thrown around rooms and sprinkles in every crevice.
Your 'welcome back' dessert party needn't be as far away as it seems.
For more ideas and inspiration when planning your ideal dessert table, or to design your perfect post-coronavirus cake, contact our team at Cakes By Robin today.