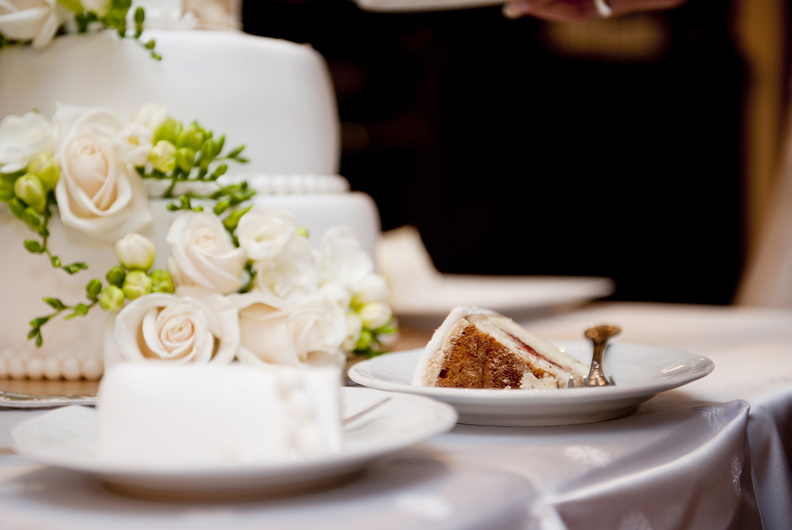 We're all familiar with the classic wedding cake – typically tiered and covered in white icing and floral decorations. But wedding cakes haven't always looked this way. In fact, this particular tradition has undergone many innovative changes over the years to evolve into the style we know and love today.
'Bride pies' are the centrepiece
In the 16th and 17th centuries, wedding feasts were typically concluded with 'bride pies' rather than cakes. Filled with elaborate ingredients like oysters, dried fruit or stuffed larks, they were designed to be extravagant and served as the centrepiece to the meal. By the 18th century, we were still dining on bride pies at wedding dinners, but the fillings were more likely to resemble mince pies.
Bride cakes became popular
Around the mid-16th century, bride cakes began to gain popularity and were mentioned in poems and recipe books around this time. They were sweet-yeasted breads that were flavoured with spices and fruit to sweeten them. Over time, these cakes were gradually replaced by plum cakes, which were more similar to the classic fruit cakes we know today. It was common for plum cakes to be glazed with icing, although the embellishments and decorative designs we're used to didn't arrive until much later in the 18th century.
The bigger, the better
By the 19th century, wedding cakes had been completely transformed compared to those of the 16th century. At this point in time, wedding cakes were large and elaborate, with coloured icing and decorative flourishes. It was actually Queen Victoria who sparked the trend for large and extravagant cakes – her cake for her wedding to Prince Albert weighed an astonishing 300lbs and was over a foot tall! Her daughter later had a three-tiered cake which stood over 5 feet high, decorated with sugar sculptures.
Wedding cakes on a budget
Wedding cakes in the 19th century were expensive to produce, including ingredients that were usually only available to the upper classes. But by the end of Victoria's reign, it was increasingly possible to buy smaller and cheaper versions of the classic wedding cake. In the 20th century, higher cost ingredients like candied peel were left out and elements like butter were replaced with margarine to make the cake more affordable.
By the Second World War, rationing meant that many couples needed to think more creatively about their wedding plans and, in particular, about the wedding cake. Wedding cakes at this time were usually just plain sponge or a light fruit cake but were covered by a cardboard design to give the illusion of a more luxurious cake for the wedding photographs.
Modern cake designs
Today, couples love to get creative when it comes to this traditional dessert. From cupcake towers to dessert tables to cater to guests' varying tastes and beautiful naked cakes, wedding cakes today are available in a host of styles to suit the couple and the wedding theme.
While traditionally a fruit cake or sponge cake, couples often choose more interesting flavour combinations for their wedding cake too, such as chocolate or red velvet cake. It's still expected that the wedding cake will be one of the focal points of the day, but couples have a wide range of options when it comes to choosing a design that matches the theme of their special day.
Final thoughts
Few couples have their big day without a wedding cake – it's such a key point of a wedding and one of the things that guests look forward to seeing on the big day. The wedding cake has changed a lot over the years but what has always stayed a constant is the concept of having some version of this celebratory dish on your wedding day.
Cakes by Robin would be delighted to help you design the perfect wedding cake for your big day, so get in touch with our team today to talk through the different options and bring your vision to life.