We were super chuffed to be asked to design some cupcakes for a photo shoot by Julia Boggio and her Home by Midnight brand for Breast Cancer Care. The models were wearing beautiful dresses by Lady Vintage London and our cupcakes were based on the dress designs-cute idea and we loved how they turned out and featured in the final shot above.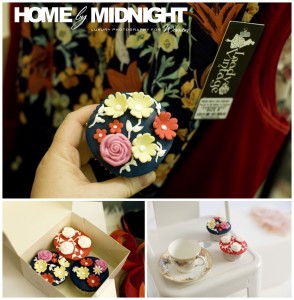 Katy at Home by Midnight said the following about the shoot:
'I am very excited to be sharing this blog post about our relationship with Breast Cancer Care.  It all started about a year ago when the team, at Breast Cancer Care, approached us to see if we might be able to work with them for their annual fashion show in October 2013. They had seen our Home by Midnight website and loved the work that we do and the philosophy we have about transforming every woman into a real life Cinderella.
Every October Breast Cancer Care put on a Fashion Show to mark the beginning of  Breast Cancer Awareness month.  The models have all been diagnosed with Breast Cancer and this is the first time any of them have taken to a catwalk. The Fashion Show is a celebrity hosted event and is a really fun day with a show in the afternoon and also in the evening.  As part of the event last year we put on a pop up studio where guests could come along and have their photos taken with a wide array of fun props.
We absolutely loved being part of such a wonderful event and were keen to see what else we could do with Breast Cancer Care to support their event in 2014.  After a few meetings with the team we came up with the idea that it would be very exciting to do something for the models of the 2014 show which could help to publicise the fashion show later this year.  Read all about the show here.
All of the models for the Breast Cancer Fashion Show have been through some really tough times on their journey with cancer.  One of the models this year is a gentleman as it is important to realize that Breast Cancer does affect around 400 men a year, a fact that I didn't realize.  Some of them have been clear for many years and some are going through treatment at the moment but they all deserved to have a day when they were pampered and made to feel absolutely beautiful and give them the confidence to feel as stunning as they look.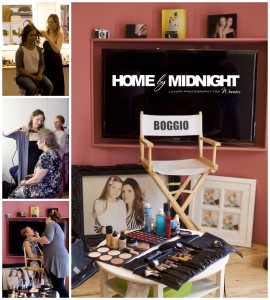 Part of our mission at Home by Midnight is to make every woman (and gentleman) feel gorgeous from the outside in.  We often get women in for shoots who are celebrating a landmark birthday, who are getting married or who have been through a particularly tough time and need a pick me up that will make them feel amazing once more.  We wanted to do the same with the models from Breast Cancer Care and decided to put on a shoot where we would create an image, with all of the models, in the style of Vanity Fair.
There are a total of 24 models who live in different parts of the country so trying to co-ordinate a shoot where we could get everyone to come down to London for a shoot was definitely a challenge but we did it and we can't wait to show everyone the final image that Julia created.  Have a look at Breast Cancer Care's website to meet the wonderful models that we photographed.
Before we do that I thought it would be good to show you some behind the scenes images from our shoot.  The shoot took place over 2 days in June, at our Wimbledon Photography Studio.  Everyone who was involved in the shoot donated their time and products for the charity.  It was a really special and emotional couple of days because everyone there had an inspirational story to tell. There were lots of laughter and tears throughout the two days. The most wonderful part of the day was watching the models all be transformed and believe that they are beautiful.  It was also a great bonding time for the models before their fashion show in October.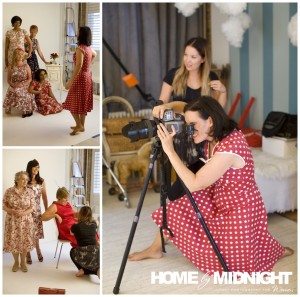 There were a few models who couldn't make the main shoot so we did an additional day this week where 5 others came along to the studio for hair, makeup and pampering.  We didn't want them to feel left out so it was good to be able to do something for them as well. Unfortunately two of the models have been unable to make the shoot as they had hospital appointments but I have made sure that we have something special for them too…
There is no way that we could have pulled off this shoot without the amazing team who came along and brought it all together.  Here is our list of thank yous.
Julia Boggio put her amazing talents together to come up with a beautifully composed final image, which was shot over 4 separate stages.  She also shot some stunning head shots for each model which they are all able to use for their own publicity for the show.
Natasha Lyons came down from Sheffield to style the shoot.  I have worked with her on a number of occasions and have always loved her work so got in touch with her as soon as I knew we were doing this shoot as I wanted her on board.  Daisy Goldsmith came along to be our assistant stylist.
Lady Vintage London were amazing. When Julia said that she would love to do a "Vintage Tea Party Theme" for the shoot I knew we had to find some gorgeous dresses for the models to wear.  We needed the dresses to fit the ladies, be a little different for each one as well as co-ordinate when all together in a final image.  We also needed to respect the models wishes about "showing no cleavage" or "covering the tops of the arms".   Last year I bought a dress from Lady Vintage London and loved it so sent an email over to Victoria to see if they might be able to help in dressing our models.  The email I got back left me speechless.  Not only did she say that we could use their dresses, she also said that they would gift the dresses to the models after the shoot.  When we told the models that they could keep the dresses that they were wearing they were all blown away and so grateful!  I think a lot of the dresses have been worn to weddings and the races on a few weekends already.
Robin Green from Cakes by Robin provided some stunning cupcakes for the shoot.  I sent her an idea of the dresses that we were using for the shoot and she used these as the basis for the design of her cupcakes. From colour co-ordination to decoration they were perfect for the shoot.
Beth Hirst from Couture Hats provided a selection of hats that we used during the shoot to add that extra bit of elegance to our models.
The team from Breast Cancer Care – it was wonderful to have the guys from Breast Cancer come down to our studio to support the shoot, chat with the models and shoot some behind the scenes footage for their own publicity.