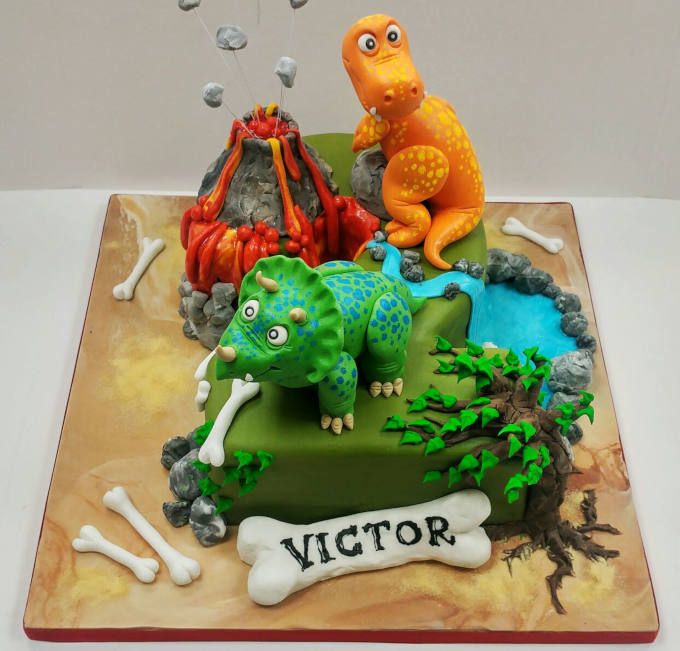 Who isn't fascinated by dinosaurs? From around 230 million years ago, these spectacular animals (or to be factually correct, reptiles) ruled our planet for more than 160 million years! Kids love learning about these awesome creatures and the different prehistoric periods, as well as mastering the long names. It amazes me how they remember all of this stuff!
Needless to say, dinosaur-themed parties are a real hit with most children. You'll be pleased to hear that dino obsession is also big in the Cakes by Robin cake parlour. We devour dinosaur books to get our dinosaur cake details spot on and we've become rather captivated.
We know all about the biggest and the best and the most terrifying dinosaurs. Did you know the first dinosaur to be formally named was the Megalosaurus? And that the largest dinosaurs were actually herbivores? Your dino-obsessed little one will no doubt know more facts than us.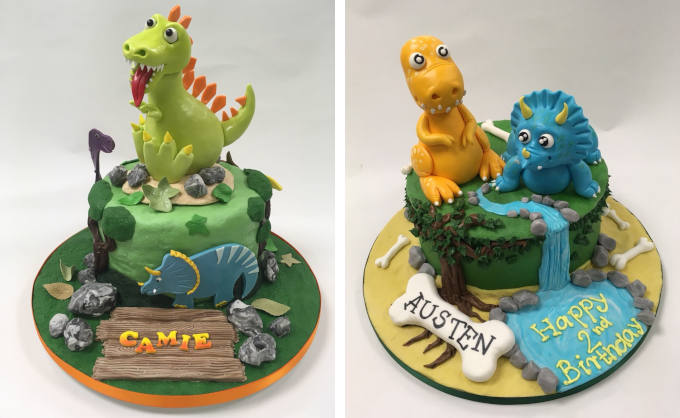 Whether your child's favourite dinosaur is a T-rex, pterodactyl, brontosaurus, triceratops, diplodocus, stegosaurus, iguanodon or a velociraptor, we can bring their obsession to life in cake form. We can make your dinosaur cake as scary-looking or as friendly-faced as you like. Choose from our cake versions of slow-plant-eating giants or fierce dino carnivores.
We can also make edible dinosaur eggs, fossil cake pops, dinosaur cookies and roar-some cupcakes to make your dinosaur-themed dessert table look perfectly Jurassic. We have a reputation for creating the best and most delicious roar-tastic treats. We have lots of cake flavours and fillings to choose from. Our chocolate fudge and marble dinosaur cakes are popular, and our red velvet cake is quite a crowd pleaser too.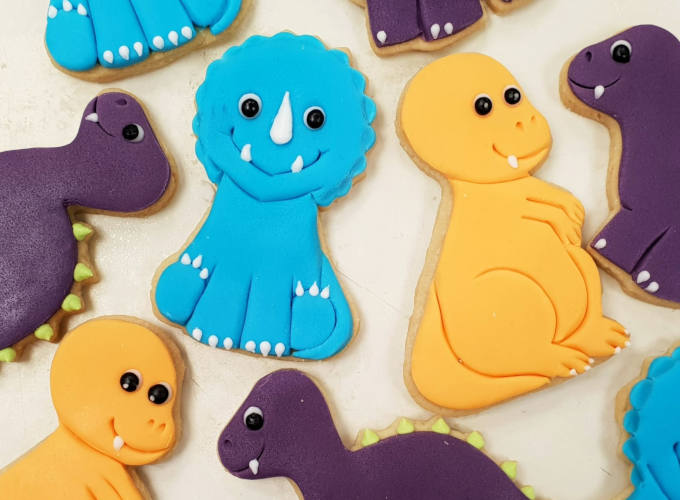 By the way, we've got lots more dinosaur party tricks up our sleeves. Walkers' Bugles snacks make great dinosaur toenails! Dinosaur shaped cookie cutters can be used to make terrific dino-shaped sandwiches.
If you want some help to create a spectacular dinosaur-themed dessert table, get in touch with our Jurassic cake experts at the Cakes by Robin cake parlour.
Oh, and we'd highly recommend a visit to London's Natural History Museum to see the dinosaur trail there. It is the perfect birthday trip for anyone (big or small) with an interest in the prehistoric world.