Skipping through the fields close to the forest, you catch a glimpse of something shiny and white. It looks like a beautiful horse. But it has a horn jutting from its forehead. Could it really be a unicorn? As you move closer, the creature leaps in the air and glitter in a rainbow of colours falls all around you. It really is a unicorn. Welcome to the imaginary world of many children.
We're sure your little one has asked the question; are unicorns real? Mythical creatures and folklore are an important part of children's development. In fact, according to psychologists, creating and sustaining imaginary friendships is a sophisticated skill and a way for pre-schoolers to practise social skills. So why not let your little one's imagination go wild with unicorns?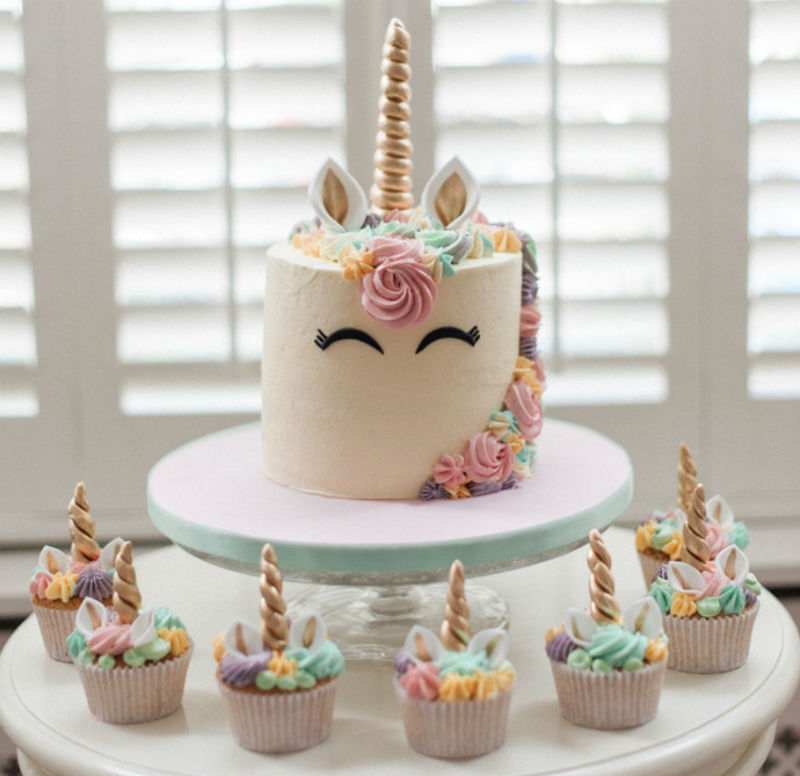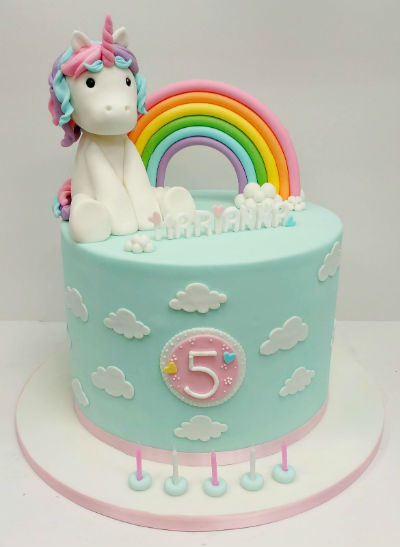 If your child obsesses about fairy-tale creatures, why not make their next birthday a special one with a beautifully handcrafted unicorn cake? Our unicorn cakes are as magical as the mystical creatures themselves.
We love to bring magic and legend to life in cake form, and our unicorn cakes are a wonderful sight to behold. Expect a gasp of delight when your child catches a glimpse of our unicorn cake made especially for them. Opt for our special rainbow cake, and you'll see our unicorn cakes are magical on the inside too.
We have a whole selection of scrumptious delights for your unicorn themed party, from rainbow coloured iced unicorn cookies to cupcakes with unicorn horns. With Cakes by Robin, your unicorn themed party will be the most charming and magical birthday ever.

We can't get enough of unicorns here at Cakes by Robin, so here are some fun unicorn facts for children:
➵ Unicorns live deep in the forest.
➵ Unicorns live with their families and love company.
➵ Mummy and daddy unicorns are 100 years old.
➵ Unicorns eat grass, but they actually don't need to eat at all as they get all of their energy from the sun and the moon.
➵ If you touch a unicorn you'll be showered with glitter and blessed with happiness your whole life.
➵ Unicorns have supreme strength.
➵ Unicorns can leap as high as the treetops.
➵ Unicorns can never be tamed and will wilt and die in captivity.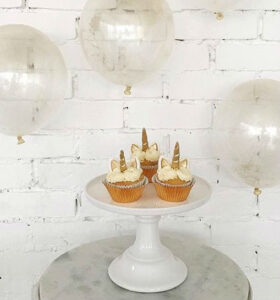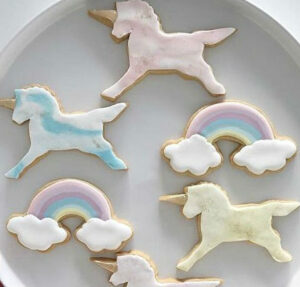 And some interesting unicorn facts for adults too:
➵ The earliest record of unicorns in Western literature comes from Greek physician Ctesias in his book about India. In the 5th century BC, he wrote that the beast had a white body, purple head, blue eyes, and a multi-coloured horn. It is believed that the citing refers to a donkey in India that had a single horn on its head.
➵ Marco Polo wrote about finding unicorns. He described them as 'ugly brutes to look at.' He was in fact describing rhinoceruses.
➵ Genghis Khan apparently decided not to conquer India because he had seen a unicorn, which bowed down to him. Perhaps it was the donkey with a horn!