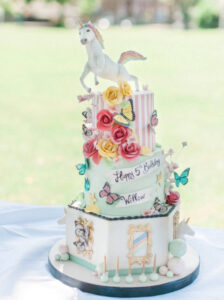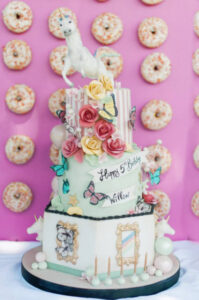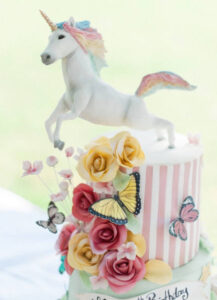 Mystical, magical and pretty are essential ingredients for any girly birthday party. At Cakes by Robin we think unicorn-themed parties are the most pretty and amazing parties you can get. The unicorn theme is a big hit with all ages and is the perfect opportunity to celebrate pastel colours, sparkles, sweet treats, and all the stuff that little girls are made of.
Tori Spelling recently threw a lavish unicorn-themed birthday bash for her daughter. Here at Cakes by Robin, Robin gave her daughter the unicorn birthday treat too. Robin's unsuspecting husband was tasked with making the pink wall to hang doughnuts on. YES a doughnut wall – how brilliant is that! Here's Robin's secret revealed:
"Plank of wood, tin of pink paint, angry husband hammering in large numbers of nails at 10pm night before party and raised eyebrows when you purchase 50 doughnuts at once and Bob's your uncle!"
So why not give your daughter the perfect unicorn-themed party? It's easy (with or without a doughnut wall), and here's how.
Firstly, don't worry about the food (well the sweet stuff anyway). Nothing delights us more than to prepare a dessert table of stunning treats in a unicorn theme. Centre stage we'll blow you away with one of our fabulous and delicious unicorn birthday cakes, but our passion for sweet treats doesn't stop there.
Pretty cupcakes with unicorn horns and pastel coloured decorations, along with beautiful iced unicorn cookies are the perfect accompaniment to make your little guests eyes light up with joy. Add our cake pops into the mix, and you'll not only have the prettiest dessert table in town, you'll have the perfect treat for your guests to take home.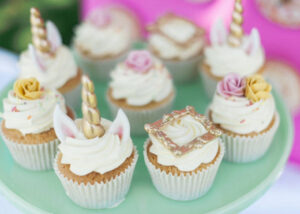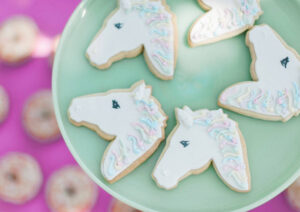 Why not ask all of your little party guests to dress up in the unicorn theme, with a prize for the best-dressed unicorn? Or simply hand all of your guests a unicorn headband as they arrive to get them into the mood. Decorate your party space with rainbow streamers and pastel-coloured balloons, and lots of big fluffy pom-poms in pink, lilac and white. Hand out mini jars of glitter dust to sprinkle in the garden to get your little unicorns screeching with delight (biodegradable glitter of course).
Unicorn-themed games are a must. Entertain your little unicorns with 'pin the horn on the unicorn', a magical bean guessing game, unicorn pass-the-parcel, and how about getting your unicorn-crazed kids to make up little bags of unicorn feed? Did you know unicorn feed was made of popcorn (sprinkled with edible sparkles), mini marshmallows, granola and jazzies (chocolate buttons with hundreds and thousands)?
A unicorn piñata could be a good hit? Sorry the pun was too irresistible! To wear your little ones out a game of musical statues always goes down well. Get them jumping high in the air to catch a unicorn, but let them know the unicorns will see them and disappear when the music stops. They'll need to stay perfectly still until the music begins again. When you're unicorn catchers need a rest, there simply has to be a face painting station too. Think pastel coloured rainbows and glitter.
Don't forget to keep your energetic little guests hydrated with rainbow juice. Keep your adult guests perky with pretty pink bellinis. Grown-ups love a bit of magical fizz!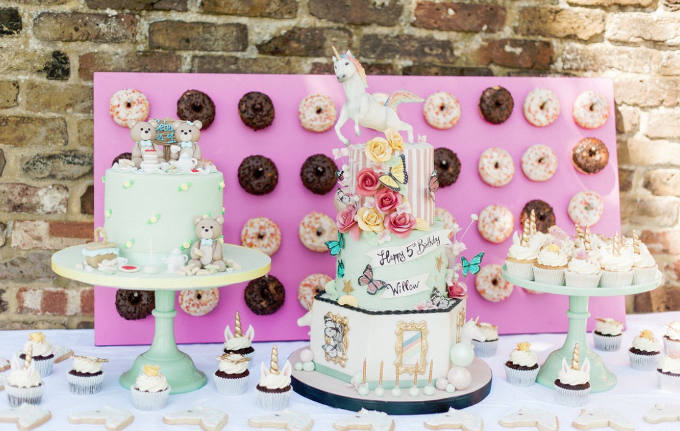 If you really want to go the distance, how about hiring a pony to dress up with a unicorn horn and pretty flowers to give your birthday princess and her guests a special surprise and fun pony-back rides? Get your cameras to the ready – your little one on a unicorn is the ultimate birthday snap.
When the party is over and it's time for bed, your little princess will have magical unicorn dreams in her head.
Video of the day!
We are delighted to share a few video clips of the wonderful day to celebrate Willows birthday. Find more vidoes on our unicorn party inspiration page.