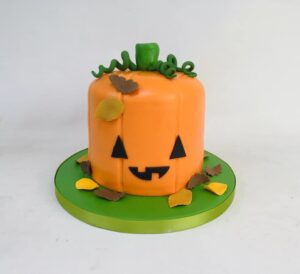 There is no doubt that 2020 has been a crazy year on account of COVID-19. But are we going to let it ruin our Halloween celebrations this year? Hell, no! All we need to do is make a few tweaks to ensure it's safe for everyone to enjoy.
Dr Chris Smith, a virologist from Cambridge University, has this advice: "If you're doing something that increases your contacts with other people then you are automatically increasing their risk and your risk." However, by taking sensible precautions, it is still possible to enjoy Halloween. This means always keeping your hands clean using sanitiser, standing well back when knocking on doors, and observing social distancing with people outside your own household.
With this in mind, we've put together some socially distanced Halloween ideas so that you can celebrate the spookiest day of the year in your own home in style.
1. Getting ready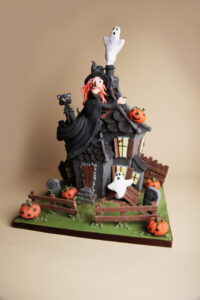 Nothing will get you more in the Halloween spirit than decorating your house in black, orange and yellow. Make it creepy, make it scary, and add some carved pumpkins for extra effect. Don't forget the windows and doors, so your house looks frightful from the outside too, especially when it's dark!
And just because you're at home doesn't mean you can't dress up in your spookiest costume. And because it's Halloween, it's even easier to incorporate a face covering into your dressing up theme. Handy for when you're opening the door to trick or treaters and want to remain extra safe.
2. Trick or treating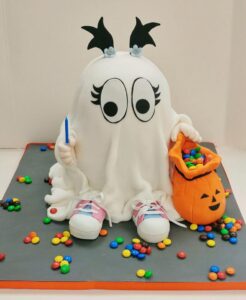 Covid-19 can be spread by touching surfaces contaminated with the virus, so if you normally offer a bucket of sweets for children to rummage around in, you may want to review your approach. Give out individually wrapped sweets or leave bags of goodies outside for trick or treaters help themselves.
Alternatively, how about trying 'reverse trick or treating'? Put together batches of pre-packed Halloween sweets or cookies and drop them off on your neighbours' doorsteps. If you need inspiration, Cakes by Robin would love to help with personalised cookies – why not get in touch to see what we can do for you?
3. House party
This year, you might prefer to celebrate at home. Why not have a party for you and your family and add friends and family via Zoom, Skype or similar video links? Send out invite links well in advance and tell everyone to wear a Halloween-appropriate costume, so you can all enjoy the call together.
Back at home, don't forget to lay on party music and games for all ages and, of course, make sure you have plenty of party food! Halloween is all about treating yourself, so be creative with themed caked, cupcakes and cookies!
At Cakes by Robin, we love a good Halloween party. As leading cake designers in London, our creative team has a wealth of experience of conjuring up all manner of themed baked goodies. From creepy cupcakes to scary centrepiece celebration cakes and full themed dessert tables, we can create delicious cakes based on your ideas and turn them into reality. We even deliver in Greater London.