Great British Bake Off 2013
Robin
If you're as crazy about cake as we are, we're sure you've been loving this year's Great British Bake Off so far. The good news is that there are still several weeks left, and we're just as clueless about anyone when it comes to who might emerge victorious as this year's winner, following in the footsteps of last year's John Whaite. Could it be student Ruby? Creative Frances? Eccentric Howard?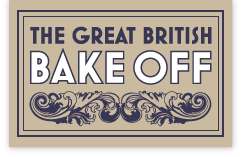 What we really love about GBBO is the fact it gets people talking about all things cake. It's always interesting to see the fascinating creations the contestants come up with, whether it's unusual flavour combinations (has anyone else noticed how much rhubarb has featured in this series so far?), artistic decorations or something completely off the wall.
The signature bake is all about mastering a classic, whether that's custard tarts or the ultimate Victoria sponge. Sometimes even the simplest cakes can trip up the best of bakers, while contestants can unexpectedly shine when performing a challenging bake. These are the staple cakes that should feature in any baker's repertoire, and will always go down a treat when they're presented on the dessert table.
The technical bake is often about mastering something challenging that the bakers might not necessarily have attempted before. We'll never forget poor Toby's classic error when he accidentally used salt instead of sugar in his angel food cake in the first week, and we were all very impressed by the standard of this week's tuiles (remember: snap, not bend!)
The showstopper bake is easily our favourite round. It's where the bakers are given the chance to express their creativity and come up with some weird and wonderful creations that will really capture the attention of hosts Paul Hollywood and Mary Berry. It's certainly the most 'Cakes by Robin' round, that's for sure, and we could definitely see our own creative cakes winning us the accolade of Master Baker week after week!
Who do you want to see crowned the winner? What's been your favourite bake so far? Let us know in the comments!
Please recommend us if you found this post useful: