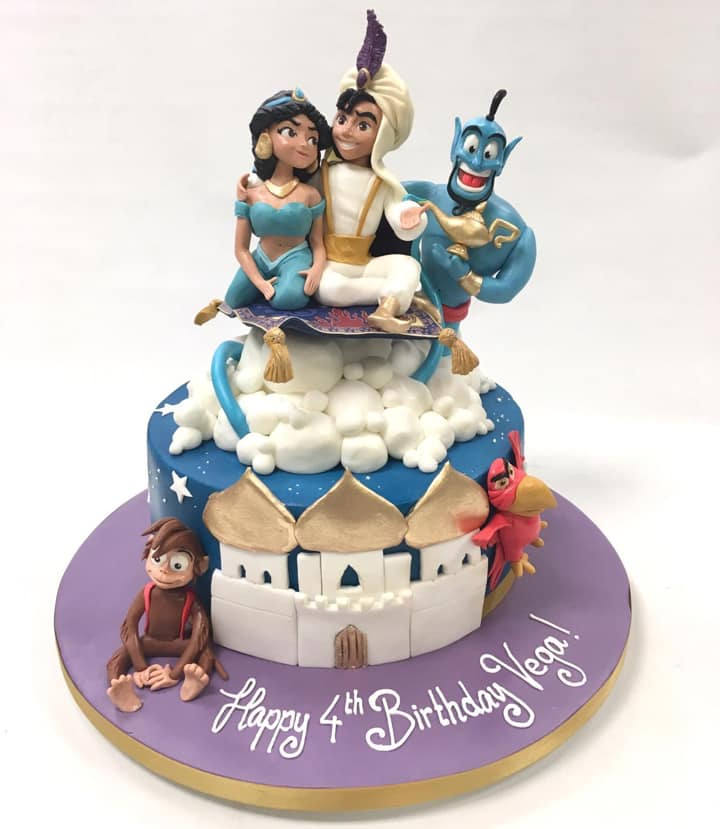 Why not have all of your birthday cake wishes come true with a spectacular cake creation showcasing the Disney classic, Aladdin? Our genie-us team make birthday cakes filled with fantasy and topped with your favourite fun characters, including the loveable street urchin Aladdin and his monkey Abu, the gorgeous Princess Jasmine, the fun-loving genie and even the evil sorcerer, Jafar.
Aladdin's classic animation has been resurrected in this year's live action adaptation, to remind us just how great the Aladdin storyline is. It's a story we absolutely love to capture in cake form.
Here's a recap of the wonderful Aladdin tale, in case you've forgotten. Princess Jasmine is bowled over by Aladdin's kindness, which the evil Jafar exploits to try and retrieve the magic lamp to rule the kingdom.
An adventure ensues. Aladdin, desperate to marry the princess, uses two of the three wishes granted to him by the genie in the lamp to turn himself into a prince and Abu the monkey into an elephant. Princess Jasmine is unimpressed by Aladdin's new rich persona, but eventually he wins her over, while flying together on the magic carpet.
Jafar's pet parrot Iago then steals the lamp from Aladdin and Jafar uses his first wish to become the world's most powerful sorcerer. He uses his new powers to banish Aladdin to a faraway mountain region, while he imprisons the sultan and the princess, and plans to marry the princess himself.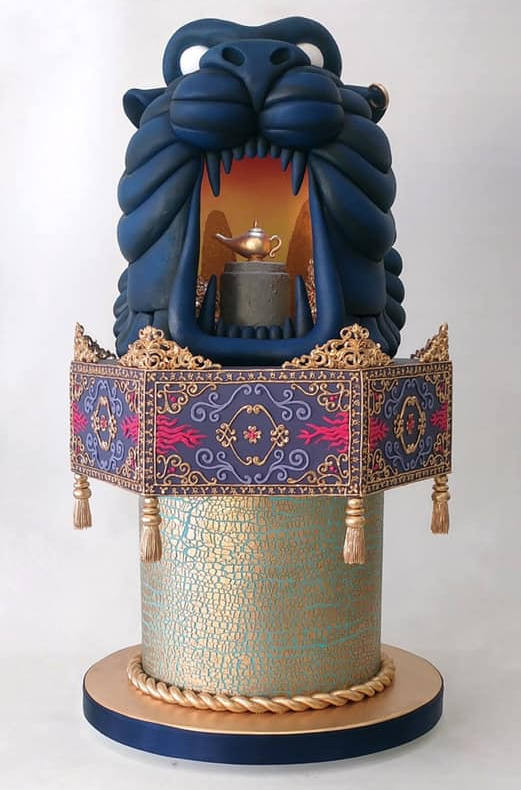 Aladdin returns to fight for the princess and tricks Jafar (who has transformed himself into a giant cobra) into using his final wish to become the genie. Jafar ends up shackled in the lamp. Aladdin uses his own final wish to free the displaced genie and the Sultan allows Aladdin to marry Princess Jasmine after all. It's an adventurous tale with a healthy peppering of romance and a great soundtrack.
We love nothing more than to sing along to the awesome soundtrack while we bake (A Whole New World and Friend Like Me are favourites, obviously). We make magical and imaginative Aladdin Birthday cakes for little Aladdin, Princess Jasmine and Genie fans.
Life is your restaurant and I'm your maitre d'. C'mon, whisper what [CAKE] you want. You ain't never had a friend like me! Call us at the cake parlour (our very own cave of wonders!) to order your Aladdin cake today!
We love to make birthday wishes come true!