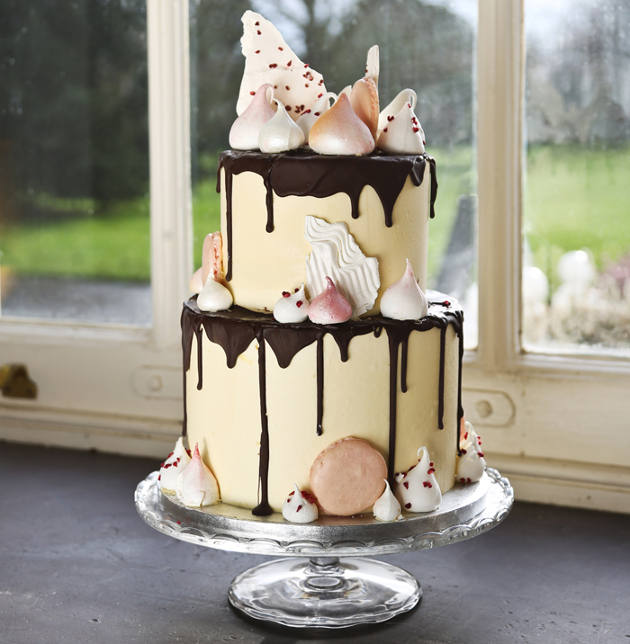 Love cake, but not a great lover of fondant icing? You may be wondering how on earth you will be able to make your celebration cake look as good without fondant. At Cakes by Robin we use all types of icing to finish our delicious cakes according to the tastes of our clients. You'll be pleased to hear that we have some great tricks up our cake-icing sleeves.
We know fondant isn't to everyone's taste, but it does have its advantages. Fondant is a wonderful decorative topping for a cake, largely because it creates such a flawless exterior. Cakes adorned with fondant decorations are certainly a sight to behold, but if you don't love the taste of fondant icing it rather spoils the cake surprise inside. We've seen plenty of cake lovers pick the fondant icing off of cake at a wedding, so we get that it's not everybody's cup of tea.
You'll be pleased to hear that we also make no fondant cakes which look just as fabulously polished and smooth. How do we do it? Our fondant-free cakes are decorated with butter icing (much yummier) and we've perfected the art of making our butter-icing finish look as brilliantly flawless and smooth as our cakes covered with fondant.
It's a labour of love as I'm sure you can imagine. It takes a certain level of patience and preening to get the generous coating of buttercream smoothed to perfection. You'll be amazed at just how many bubbles there are in butter icing, so careful prep using our special buttercream recipe is essential. But, as you will know by now, the team at Cakes by Robin are always up for a cake challenge and that includes perfecting our fondant free alternative.
We love to finish our no fondant cakes off with a chocolate ganache which we pour over the top and let it run down the sides to create a drip effect. Chocolate ganache has an amazing glossy finish and tastes delicious too. Once the ganache has set, we pile our fondant-free cakes high with sweet goodies to create a showstopping finish just as effective as fondant figures.
If you fancy a fondant-free cake for your next celebration, whether it be a birthday, christening, engagement party or a wedding, get in touch with our buttercream icing experts at the Cakes by Robin cake parlour. Cakes can be just as fabulous without fondant!