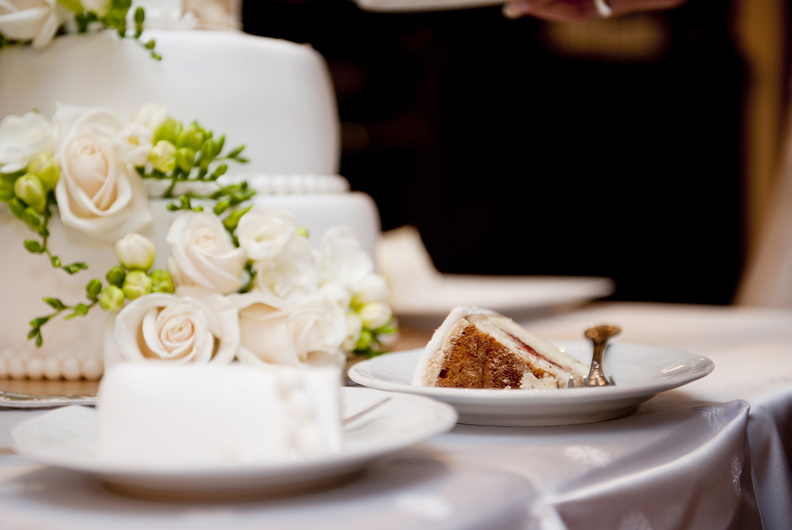 When couples start to plan their big day, one of the first details that they think of is the cake. It's a centrepiece of the whole day and one of the most important elements, so getting it right is essential. But where do you begin? We've put together a few ideas to get your imagination running and inspire your vision for a beautiful wedding cake.
Match to your bouquet
Just like the cake, flowers are a key feature of any wedding, so why not combine the two? Matching the flowers in your bouquet to those decorating your wedding cake results in a simple yet cohesive design that looks simply stunning. Not only can you be absolutely sure that the cake will complement the rest of the décor, but you can make the design as simple or as elaborate as you want, and it can be scaled up or down depending on the size of the cake itself.
Go rustic
Natural designs are always striking, and they blend well with a range of different wedding themes, making them a popular option. Pairing ferns and sprawling fig leaves with a semi-naked cake for a rustic finish, or simple greens against a pure white cake for a pop of colour, will look beautiful for a seasonal wedding theme. Whether you're planning an outdoor wedding or you want a grand indoor affair, a cake adorned with greenery will look beautiful.
Top with sweet decorations
If you don't like the idea of real flowers on your cake, why not keep the theme but replace it with entirely edible decorations? Sugar flowers are elegant and surprisingly realistic, and they make a wonderful decoration on wedding cakes. Sugar flowers and decorative elements can be made to any design or colour to suit your theme.
Have an accent tier
Just as you might have an accent wall in your home to draw the focus, adding an accent tier to your wedding cake means the rest of the cake is minimal and simple, and you have your decoration focused on just one tier of the cake. You might decorate this tier with a different colour of buttercream or fondant, add a monogram of you and your partner's initials, add a design painted in edible inks or create a dramatic look with a gold or metallic tier.
Make the cake your favours
One central wedding cake is a stunning way to finish your meal, but another option is to combine dessert with your wedding favours by choosing cupcakes instead. Whether stacked up in an impressive tower or placed at each guests' seat, cupcakes can serve as beautiful individual wedding cakes and are guaranteed to be a welcome surprise for your guests.
Don't compromise on flavours
Choosing the flavour of your wedding cake can be one of the hardest decisions. There are so many delicious combinations to choose from, and you might be struggling to narrow it down to just one or you might be disagreeing on what flavour your cake should be. So, why not pick them all? A dessert table of smaller wedding cakes in a range of flavours gives you and your guests the ability to choose the flavour you enjoy the most, and it gives you even more options for a beautiful cake display.
Let us create your perfect wedding cake
The wedding cake is a central feature of your big day, so you want to be sure that it not only looks the part but tastes delicious. At Cakes by Robin, we have many years' experience in creating show-stopping cakes that perfectly match your vision and are every bit as wonderful to eat as they are to look at.
Whether you have the perfect idea for your cake or you're not sure what to choose, our team can help you. Contact us today to discuss your ideas.