Everybody loves cookies! Whether it's their visual appeal or the aroma of a freshly baked cookie, it is a truth universally acknowledged that cookies are hard to resist. At Cakes by Robin, we're no different – that's why we love creating our own bespoke cookies for all occasions. Our beautifully decorated cookies and biscuits can be made as part of a themed Birthday, Christening Cake and celebration, as a delicious alternative to wedding favours or as a corporate gift. So, what makes these little sweet treats so popular?
1 – Spoilt for choice
Our cookies provide a deliciously gooey sweet, slightly crunchy canvas that's ready for your tastebuds to experience to the max. They come in a wide variety of flavours to satisfy any sweet tooth – there's surely a cookie out there for everyone to enjoy – and they can be decorated to your heart's content.
At Cakes by Robin, our custom cooked are expertly baked in our cake studio using high quality ingredients, then personalised with beautifully intricate decorations and packaged to perfection to keep them fresh and safe for delivery or collection.
2 – Portable sweet treats
When it comes to little sweet snacks, cookies are the ultimate portable finger food. They are practical because of their size, making them the perfect choice for buffets and dessert tables for kids and adults alike. Compared to handmade cakes, transport is a doddle if you're ordering a batch of personalised cookies for your event. You don't even need cutlery or tableware – simply pick up and enjoy.
What's more, cookies are a favourite addition to picnics, and they make an ideal travelling snack. Pop a couple in your lunchbox or bring some handmade cookies along to sweeten any occasion, alfresco or otherwise, to share with friends or colleagues.
3 – Gift for all occasions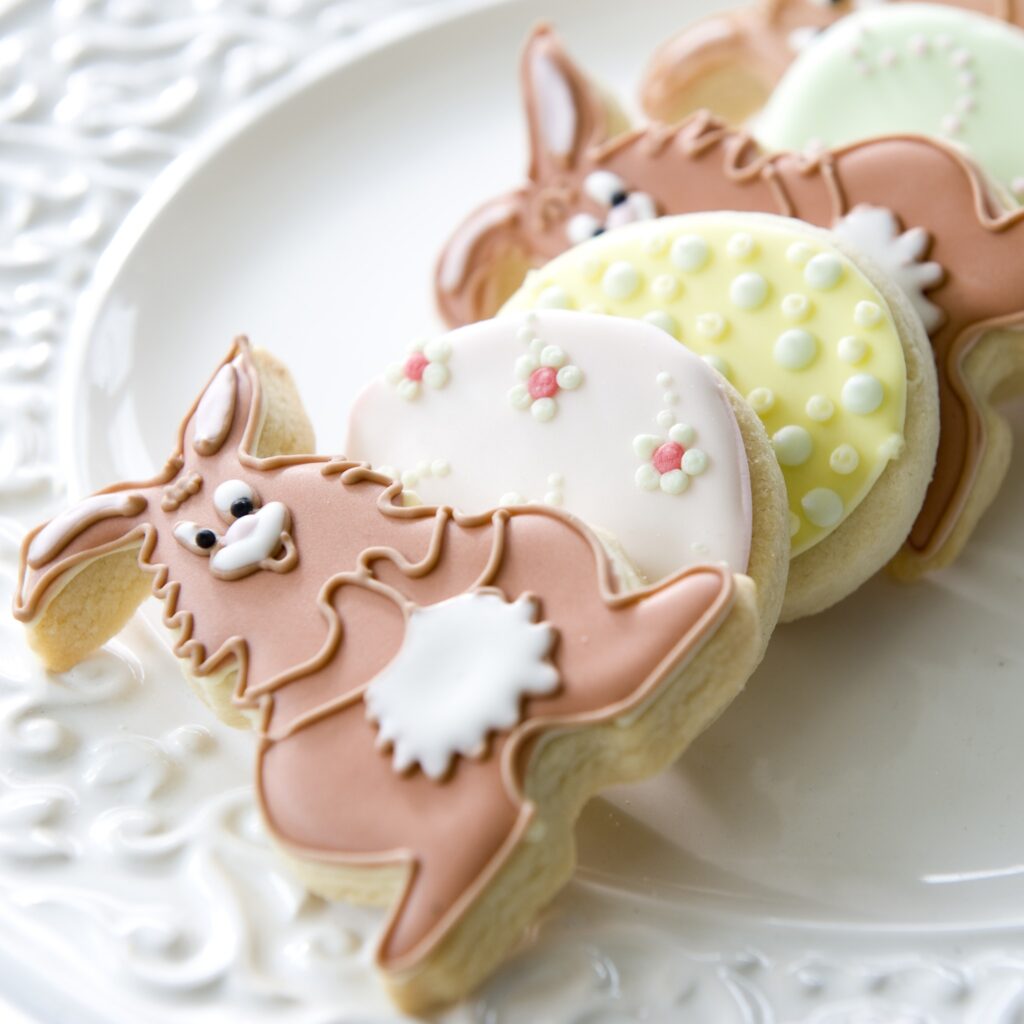 Since they are so universally loved, cookies make the greatest gifts! Bake your own or order custom cookies from Cakes by Robin – personalised cookies are our speciality! Tell us the colour, shape, flavour and icing you would like, and we'll have them baked and finished just how you like them. Place your cookies in a hand decorated Mason jar, in a presentation box or simple bag with a cute ribbon bow and gift to a special someone.
Cookies are the ultimate personal gift and yet they are so versatile that they're perfect for any occasion – as a birthday or other celebration gift, as corporate hospitality gifts, as wedding favours or a thank you gift, to say 'I love you', 'Get well soon' or 'Sorry', or for no particular reason at all.
4 – Spread happiness
Cookies make people smile. Maybe it's treasured memories of childhood that are being evoked, or maybe it's just a simple feelgood vibe that comes cookie shaped and flavoured. These bitesize treats are guilt-free simple pleasures. While we can make cookies to any size you desire, the great thing about a hand-held sweet is that it offers automatic portion control. Enjoy yourself knowing that you're allowed to have a little treat or two without overindulging on the calories.
Bring some along to share with new friends or co-workers, make a sweet first impression or give a cookie to someone who needs cheering up. Whatever your reasons, sharing a delectable chewy, crunchy, crumbly confection will brighten anyone's day.
At Cakes by Robin, we love hand making cookies in all shapes and sizes. Get in touch to discuss your personalised cookie design ideas or visit our cookie gallery at the bottom of this page for inspiration, and place your order for a batch of lovingly designed cookies that look fabulous and taste delicious.